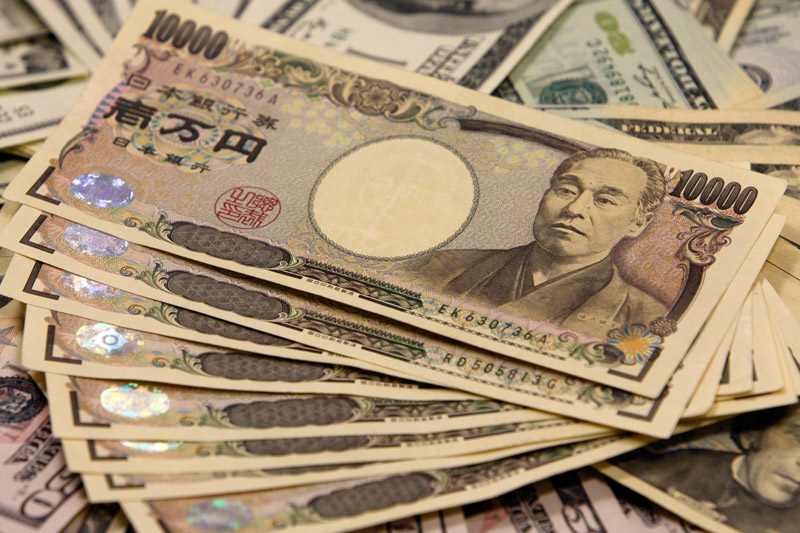 The yen strengthened against the dollar in morning trade in Asia Tuesday
Investing.com – The yen strengthened against the dollar in morning trade in Asia Tuesday after U.S. president Donald Trump raised the possibility of imposing new tariffs on US$200 billion worth of Chinese goods. Investors are entering risk-off-mode as worries mount over a U.S.-China trade war and the risk-off mode is benefiting the safe-haven yen.
The US dollar index, which tracks the dollar against a basket of six major currencies, fell 0.15% to 94.27 by 12:30PM ET (04:30 GMT).
The USD/JPY pair slid 0.74% to 109.73 after Trump said the U.S. may impose 10 percent tariffs on $200 billion worth of Chinese goods.
In a statement on Monday, Trump said he had asked U.S. representatives to identify Chinese goods that would be subject to the new tariffs. The move would be in retaliation for China's decision to raise tariffs on $50 billion in U.S. goods, which was in itself in response to new U.S. tariffs.
"China apparently has no intention of changing its unfair practices related to the acquisition of American intellectual property and technology. Rather than altering those practices, it is now threatening United States companies, workers, and farmers who have done nothing wrong," said Trump. 
He added that "after the legal process is complete, these tariffs will go into effect if China refuses to change its practices, and also if it insists on going forward with the new tariffs that it has recently announced."
China's Ministry of Commerce also issued a statement on Tuesday indicating that Beijing will fight back with "qualitative" and "quantitative" measures if the additional list of tariffs on Chinese goods becomes reality.
"Such a practice of extreme pressure and blackmailing deviates from the consensus reached by both sides on multiple occasions, and is a disappointment for the international community," noted the ministry's statement.
"The United States has initiated a trade war and violated market regulations and is harming the interests of not just the people of China and the U.S., but of the world," the ministry said.
Although the trade spat has sent both the dollar and yuan down, the USD/CNY pair was up 0.14% to 6.4486. The People's Bank of China (PBOC) set the Yuan reference rate at 6.4235 vs. last Friday's fix of 6.4306.
The Australian dollar reached a one-year low of A$ 0.7391 being affected by the U.S.-China trade spat. The USD/AUD pair was at 1.3520, up by 0.37%.
sponsoredArticle = 'div-gpt-ad-1466339494851-0';