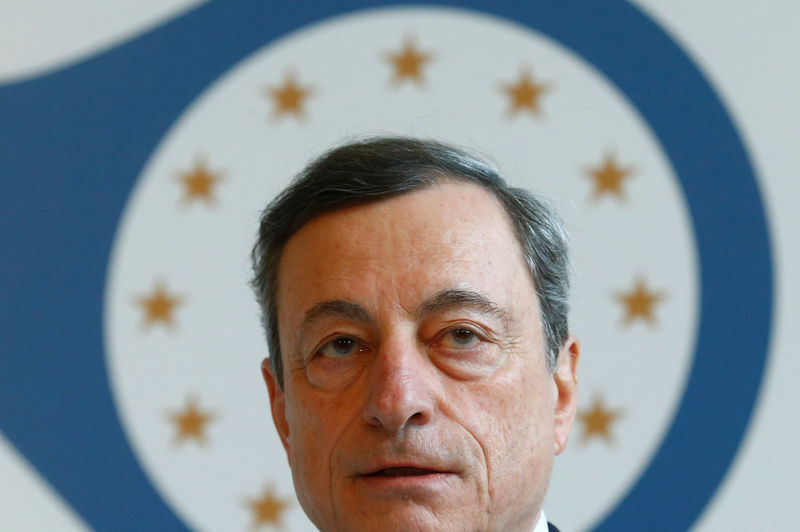 © Reuters. Top 5 things to know today in financial markets
Investing.com – Here are the top five things you need to know in financial markets on Thursday, June 14:
1. ECB Day
In what has become one of the most keenly anticipated meetings in a long time, the European Central Bank (ECB), meeting in Riga, Latvia, is likely to signal that its €2.5 trillion easing program will end this year, a key move in dismantling crisis-era stimulus.
Investors had initially expected the central bank to wait until its July meeting to begin making such decisions. But policymakers recently suggested they will look past Italy's political problems in their debate on when to end bond purchases.
Any changes to asset purchases or the central bank's policy guidance should appear in the ECB policy statement at 1145 GMT (7:45AM ET). More details, including latest economic forecasts would follow at ECB chief Mario Draghi's press conference 45 minutes later.
The euro nudged up around 0.3% to 1.1820 against the dollar, while government bond yields in the euro area were also higher.
2. U.S. Stocks Set To Open Lower Amid Fed Fallout
U.S. stock index futures pointed to a lower open Thursday morning, as investors continued to digest comments from the Federal Reserve.
At 5:30AM ET, the blue-chip Dow futures slipped 20 points, or around 0.1%. The Nasdaq and the S&P 500 futures also indicated a lower start to the session for their respective markets.
The moves in pre-market trade came after the Fed hiked interest rates for the second time this year and took a slightly more hawkish policy tone in signaling two additional rate hikes by year-end.
The Dow fell about 120 points on Wednesday, while the S&P 500 and Nasdaq also ended lower.
The earnings calendar will be pretty empty, with Adobe Systems (NASDAQ:ADBE) the only notable company reporting results.
On the data front, there will be weekly jobless claims as well as retail sales for May both due at 8:30AM ET (1230GMT).
Elsewhere, in Europe, most of the continent's major bourses declined in cautious mid-morning trade, with all sectors trading in negative territory.
Earlier, Asian markets closed mostly lower, mirroring overnight losses on Wall Street.
3. Dollar Slides As Fed-Driven Surge Fades
The dollar was under pressure, giving up gains made after the Fed raised interest rates and struck a more hawkish tone by forecasting a slightly faster tightening.
As widely expected, the Fed raised its benchmark overnight lending rate a quarter of a percentage point to a range of 1.75%-2% on the back of strong U.S. economic growth.
Fed policymakers' rates projections pointed to two additional hikes by the end of this year compared to one previously, based on board members' median forecast.
The dollar index against a basket of six major currencies dipped 0.3% to 93.30 after briefly rising to 94.04 on Wednesday.
Against the yen, the dollar last traded at 109.95, down almost 0.4%, having lost steam after hitting a three-week peak of 110.85 shortly after the Fed's latest policy statement.
Meanwhile, the 10-year U.S. Treasury yield stood at around 2.95%, pulling back from a three-week high of 3.01%.
4. U.S.-China Trade Concerns Back In Focus
Fresh concerns about U.S.-China trade relations returned to the forefront.
U.S. President Donald Trump will meet with his top trade advisers on Thursday to decide whether to activate threatened tariffs on billions of dollars in Chinese goods, a senior Trump administration official said.
Trump is due to unveil revisions to his initial tariff list targeting $50 billion of Chinese goods on Friday. People familiar with the revisions said that the list will be slightly smaller than the original, with some goods deleted and others added, particularly in the technology sector.
The world's two largest economies have threatened each other with tens of billions of dollars' worth of tariffs in recent months, leading to worries that Washington and Beijing may engage in a full-scale trade war that could damage global growth and roil markets.
5. 2018 FIFA World Cup Kicks Off
The 2018 FIFA World Cup tournament kicks off later today, when host nation Russia takes on Saudi Arabia in a Group A match at the Luzhniki Stadium in Moscow. It has a 6:00PM start time in Moscow, which means 11AM ET.
This is the only game that takes place on the opening day of the World Cup as the competition really gets going on Friday, with three matches including a Group B clash between Portugal and Spain.
The tournament ends on Sunday, July 15, which is the day of the final.
Most experts suggest defending champion Germany as having the highest likelihood of winning the cup, while Brazil, France, Spain and Argentina are also expecting to reach the late stages.
In terms of impact on the market, analysts have warned that trading volumes on major international stock exchanges are likely to decline during the month-long tournament.
sponsoredArticle = 'div-gpt-ad-1466339494851-0';